The CSI is pleased to announce the publication of "The Open Access Diamond Journals Study: Exploring collaborative community-driven publishing models for Open Access" in the form of two reports: an in-depth report and then associated recommendations arising from the study of open access journals across the world that are free for readers and authors, usually referred to as "OA diamond journals". In conjunction with the SEPS (Socio-economics of academic publications) research program held at the CSI, this research sheds light on the diversity of resources and business models for the majority of existing open access journals, often dismissed compared to the more known author-payer model.
Funded by Science Europe and commissioned by cOAlition S in order to gain a better understanding of the OA diamond landscape, the publication of the study is the culmination of work undertaken from June 2020 to February 2021 by a consortium of 10 organisations led by OPERAS.
The study uncovers a vast archipelago of up to 29,000 journals, mostly (60%) in humanities and social sciences, serving the needs of multiple scientific communities across the world. The diamond journals comply partially to Plan S requirements but struggle on some criteria such as persistent identifiers, licenses and content preservation. More generally, in spite of scientific quality, they face many operational challenges and rely heavily on volunteering. There is a need to develop infrastructure and to increase funding to support their operations.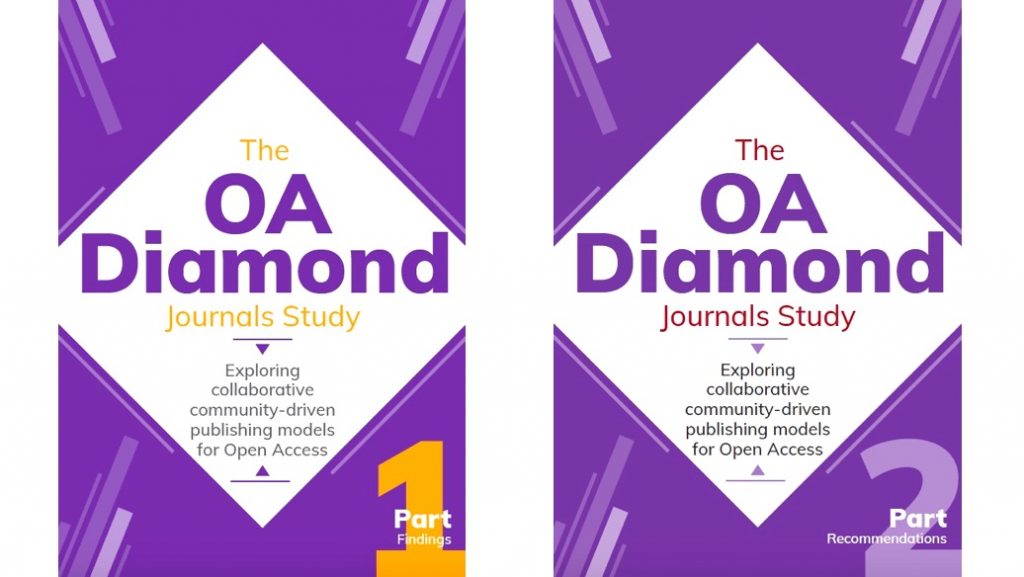 A quantitative and qualitative study of a large panel of OA journal publishers
Using the results from a widely disseminated survey that was translated into 6 languages, together with focus groups and direct outreach to target journals and platforms, the study examines the core areas which are critical for OA diamond journals to operate, encompassing everything from legal structures and governance to technical capabilities, editorial processes and funding models.
The group used statistical analysis of bibliographic databases, responses from over 1,600 journals, collected more than 7,000 free text submissions and other data from 94 questions, and organised three focus groups with 11 journals and 10 interviews with hosting platforms. The results of the study uncovered a number of challenges faced by diamond journals which are presented at length in "OA Diamond Journals Study. Part 1: Findings" published on March 9, 2021.
Recommendations based on the study findings
In line with the objectives set by cOAlition S, the separately published "OA Diamond Journals Study. Part 2: Recommendations" have been based on extensive study of the data gathered. The analysis presented by the group in the report points to clearly defined areas in which research funding organisations, institutions, societies and infrastructures can focus in order to strengthen and sustain OA diamond journals and the ecosystem in which they operate, as well as assisting these journals in compliance with open access policies such as Plan S.
The group recommends to kick start an action plan to support diamond journals by organising an international symposium in six months, setting up a funding plan in one year and creating a capacity center in two years.
Sharing of resources for further research
Additional materials are shared with the community for further research and reuse:
Upcoming discussions and debates about the sustainability of the OA Diamond model
The study group intends to engage with the community in the coming weeks to initiate fruitful discussions about how the OA diamond sector could be better coordinated and supported.
Coming events and updates will be announced on this web page: https://www.operas-eu.org/the-oa-diamond-journals-study
Contact: Didier Torny
About the funders
Science Europe is an association of major Research Funding Organisations and Research Performing Organisations. It was established in October 2011 and is based in Brussels.
cOAlition S is an international consortium of research funding and performing organisations supporting Plan S, an initiative for Open Access publishing that was launched in September 2018. Plan S requires that, from 2021, scientific publications that result from research funded by public grants must be published in compliant Open Access journals or platforms.