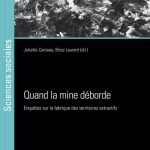 Juliette Cerceau and Brice Laurent (Eds.)
At a time of energy and digital "transitions" and health and geopolitical crises, access to mineral raw materials is becoming a crucial issue forcing us to question mining activity.
The contributors to the book are Nassima Abdelghafour, Sylvia Becerra, Tessa Bonincontro, Juliette Cerceau, Liliana Doganova, Noémie Fayol, Yona Jébrak, Brice Laurent, Claude LeGouill, Pierre-Yves Le Meur, Florian Tena-Chollet and Roberta Rubino.