At the Prize ceremony organized at the newspaper's premises on November 18th, 2015, Pierre-André Juven was awarded the 2015 Le Monde Prize for University Research by Edgar Morin, Chairman of the Humanities and Social sciences jury, for his PhD thesis in socioeconomics of innovation, supervised by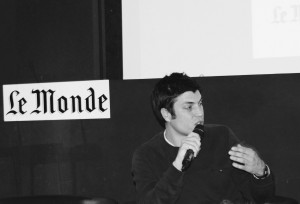 Vololona Rabeharisoa and defended in October 2014 at CSI – Mines ParisTech
Health that counts? Costs and hospital rates in the French hospital policy
The policy instruments have led to a profound transformation of the French public hospital into an entity of management and finances. The T2A, or price per activity, in particular has played a central role. Pierre-André Juven analyzes the T2A as a qualculation tool, in the sense that it is used to quantify and qualify the patients, the hospital stays as well as the diseases, and even the public hospital itself.
Pierre-André Juven highlights how these transformations of the hospital took place, through an approach combining political sociology of the instruments of government and sociology of technologies and innovation. He studied the genesis, the practices and the successive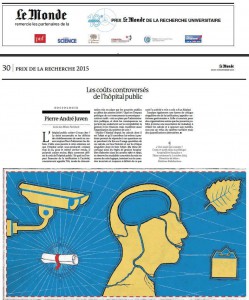 declensions of several public hospital policy instruments: information system, calculation of costs by stays, instruments of budgetary adjustment and pricing system. His investigations led him to explore the multiple sites where these instruments gradually spread: Ministry of Health, technical agency, management research centers, expert authorities, hospital federations, patients' organizations and public hospitals. His precise and detailed approach allows him to demonstrate how this qualculation process has generated metrological controversies and how the actors who took part in it have seized the devices to redo qualculations. He shows that these controversies represent a relatively new form of critical work.
Pierre-André Juven's prize-winning PhD thesis will soon be published, in partnership with the newspaper Le Monde, in the Presses Universitaires de France collection "Partage des savoirs".